Aprilaire Standard Power Humidifier
Aprilaire Humidifier – Model 700
The Aprilaire Model 700 Humidifier is a large-capacity powered unit with big humidification performance to match the biggest of homes.
The Aprilaire Model 700 Humidifier is a whole-home solution that helps you achieve total comfort through humidity control. The Model 700 uses a built-in fan that pulls heated air directly from the furnace. It is installed by a local HVAC professional.​
Trane CleanEffects­™ Air Cleaner
Description:
Setting the standard in air quality, the Trane CleanEffects™ Air Cleaner uses revolutionary technology that supplies your home with a cleaner, healthier environment, allowing you to breathe easier – literally. Remove up to 99.98% of airborne particles with our air cleaner for your home, and say goodbye to worrying about breathing in harmful bacteria or allergens.
Active Tek Air Scrubber
The activTek INDUCT 2000 utilizes tested ActivePure® technology to substantially reduce odors, visible smoke in the air, and treat contamination on surfaces. Available for 100 or 277 volt installation, the INDUCT 2000 can be inserted into a duct or plenum as a low-maintenance way to incorporate air treatment into HVAC systems, requiring no cleaning. Includes a UV bulb monitoring indicator. Covers up to 2000 square feet.
Trane ERV Fresh Air Recovery
The purpose of an HRV or an ERV is to deliver fresh air to a home's interior. Neither appliance is designed to provide makeup air for combustion appliances or kitchen exhaust fans. HRVs and ERVs are not space-heating devices, heat-delivery devices, or energy-saving devices. The more hours that an HRV or ERV operates, the more energy it uses — electrical energy to operate its fans, as well as heating or cooling energy to make up for the conditioned air that these devices expel from a home.
Trane FreshEffects™ Energy Recovery Ventilator provides a whole-house solution for fresh air ventilation. Trane FreshEffects exhausts stale indoor air and brings in fresh, preconditioned, outdoor air, so your home can be a cleaner, more enjoyable place to live. This ventilator also decreases the level of odors, chemical vapors, and naturally occurring gases that become trapped in tightly sealed homes. Plus, with its quiet operation and durable components, you can count on fresh air from Trane FreshEffects for years to come.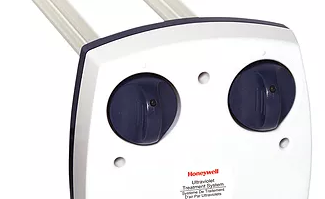 Honeywell UV Light for the Whole House
UV Treatment Systems improve air quality and home energy-efficiency
Your heating and cooling system not only heats and cools your home. Surface mold can grow on the AC coils and airborne bacteria can be distributed by your ductwork. Improve air quality throughout your home with our UV Treatment Systems. Once it's professionally installed, it eliminates up to 99.9% of mold spores in your HVAC system and kills up to 87% of certain airborne bacteria passed by the system. The result is a more energy-efficient home with optimal air quality.
Eliminates up to 99.9% of mold spores in your system
Kills up to 87% of certain airborne bacteria passing by the system
Helps maintain system efficiency and airflow, which saves money by not having to have your system coil cleaned as often
SnapLamp™ replacement bulbs make replacement quick and easy
Sealed unit design and multiple interlocks prevent accidental contact with UV rays
Five-year warranty
Professional installation
Includes both lamp and bulb
Highly effective
We Are a Licensed Trane Dealer
At Burns Heating & Air LLC, we work hard to find air conditioning repair solutions for you. However, if air conditioning repair isn't an option, or you are interested in a newer, more energy-efficient model, we can also help with installing any of the fine products in the Trane lineup.
Trane TruComfort™
The Trane TruComfort™ system gives you precise comfort by running at the exact speed needed to keep your home comfortable. This allows the compressor, outdoor fan, and indoor fan to vary operating speed and BTU as the temperature outside changes, slowing down or speeding up gradually in as little as 1/10 of 1% increments to keep comfort within 1/2° of the thermostat setting.
Efficient Performance
The XV20i air conditioner is one of the industry's most efficient systems, with ratings up to 22 SEER. With Trane TruComfort™ technology, the 22-SEER air conditioner automatically adjusts itself while maintaining constant and consistent speeds to avoid temperature swings.
ComfortLink II Communicating Capability
ComfortLink™ II communicating technology (available when matched with communicating indoor units) connects all of your key components, so your system automatically configures and calibrates for optimal performance and efficiency through the lifetime of your products.
Durable, Quiet, and Economical
Rigorously tortured and tested for long-lasting durability, you can be sure this system will hold up to anything without holding up your bank account. And with the quiet running fan, 4 dB below our competitor's minimum, you can be sure you are getting a quieter air conditioner and the best all-around system for your home.
Cleaner, Healthier Indoor Air
Add Trane CleanEffects™ to your system to filter the incoming air to eliminate dust, pollen, and other irritants for a cleaner, healthier, and more comfortable home. Locate Energyguide Labels estimated energy savings of 64 Savings based on the rating of a matched system
Mitsubishi Ductless Mini Splits
Mitsubishi Electric has been awarded the new seal of quality for room air conditioning units by the professional association "Fachverband Gebäude-Klima" (FGK). The new seal is to provide more transparency when reviewing the standards applicable to air conditioning units in order to support the end consumer in making a decision in favor of high-quality and advanced, split air conditioning units.​
Let Burns Heating & Air LLC Help
Burns Heating & Air LLC offers HVAC installation services and air conditioning repairs in and around the greater Waterford area. For quality service and products you can trust, get in touch with Burns Heating & Air LLC today.